The Magic of Artificial Intelligence and Its Impact on Modern Society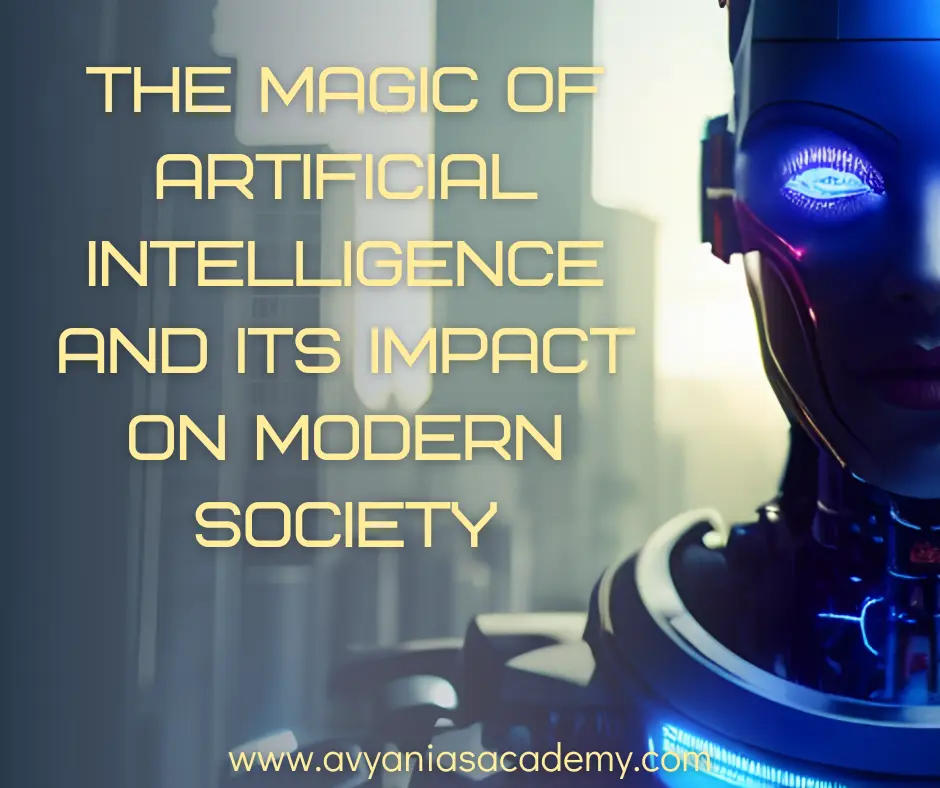 Artificial Intelligence, or as we fondly call it, AI, might sound like a term from a sci-fi movie, but it's real, and it's here – making our lives more efficient, more productive, and, yes, a little more futuristic!
From our smartphones, and home appliances, to the ways businesses operate – AI is everywhere! Ever wondered how your smartphone's voice assistant can guide you to the nearest coffee shop or how your Netflix account always knows which movie you'll love next? It's all thanks to the magic of AI.
In healthcare, AI is a game-changer. It helps doctors diagnose illnesses with remarkable accuracy and even predict potential health risks, allowing for early interventions. Imagine a future where illnesses can be prevented before they occur – AI is making it possible.
In the world of transportation, AI is steering the wheel of self-driving cars, making our roads potentially safer and more efficient. Goodbye, traffic jams and reckless driving!
AI is also shaping the future of education by providing personalized learning experiences. It helps educators understand the learning pattern of each student, making education more tailored and effective.
But AI's magic doesn't come without challenges. Privacy concerns, job displacement due to automation, and the importance of making ethical AI decisions are issues we need to address.
As we continue to harness AI's potential, we must remember to use it wisely and ethically, ensuring it serves us and doesn't rule us. After all, AI is a tool, and its impact depends on how we choose to use it. Here's to a future, enhanced by AI, full of exciting possibilities and unprecedented growth!
Artificial Intelligence (AI) has had a profound impact on our society, with many benefits and some drawbacks. Here's a brief overview of the pros and cons of AI:
Pros of AI:
1. Increased Efficiency and Productivity: AI can automate repetitive tasks, freeing up time for humans to focus on creative and high-level tasks.
2. Improved Decision-Making: AI algorithms can analyze vast amounts of data and draw conclusions, helping businesses and individuals make informed decisions.
3. Personalization: AI can tailor experiences to individual needs, from personalized learning plans in education to customized product recommendations in e-commerce.
4. Availability: AI systems can operate 24/7 without breaks, providing constant service (like chatbots providing customer service at all times).
5. Predictive Capabilities: AI can predict trends, behaviors, and events based on data analysis, which is invaluable in many sectors, including healthcare, finance, and marketing.
Cons of AI:
1. Job Displacement: The automation of tasks could lead to job displacement in certain sectors, leading to unemployment and social instability.
2. High Costs: Developing and implementing AI technology can be expensive, including the costs of maintenance and repair.
3. Data Privacy: AI systems often need large amounts of data, which can raise concerns about data privacy and security.
4. Lack of Emotional Intelligence: While AI can mimic human intelligence, it lacks emotional understanding and context, which can lead to misunderstandings and inappropriate responses.
5. Dependency: Over-reliance on AI could make humans too dependent on technology, potentially decreasing human problem-solving and critical thinking skills.
While AI brings numerous advantages, it's important to address its potential drawbacks to ensure that its benefits are maximized, and potential harm is minimized. As AI continues to evolve, ethical considerations, regulations, and safeguards will be crucial to its development and use.