Impact of China Plus One Strategy: Diversifying Global Trade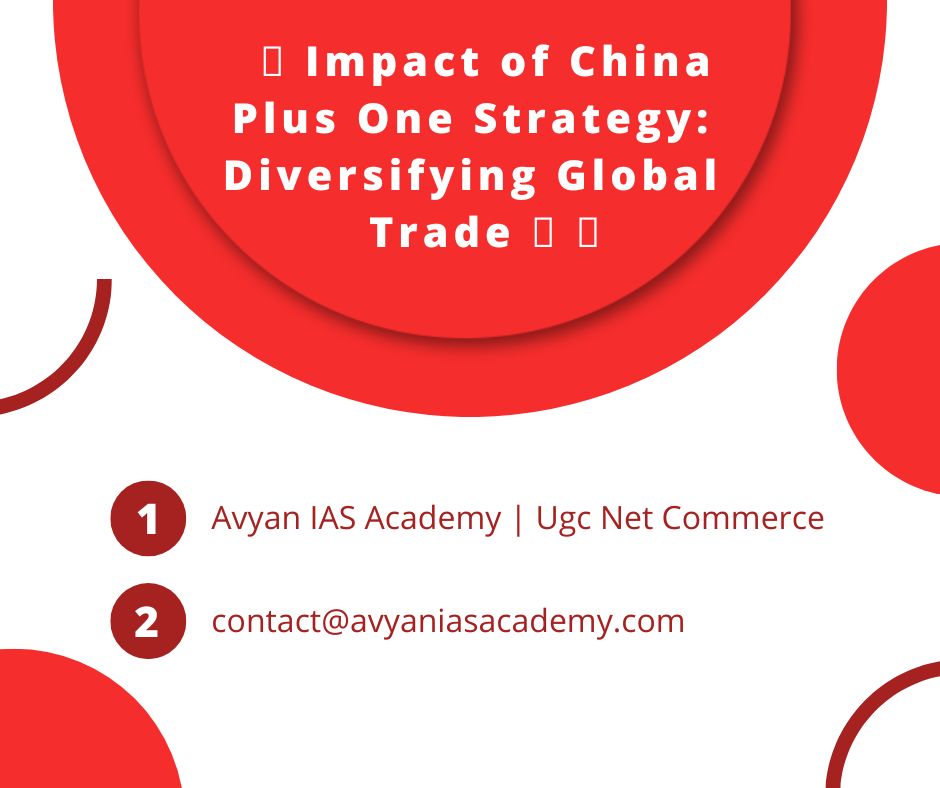 For years, China has been known as the world's manufacturing hub, attracting numerous companies seeking cost-effective production and access to a massive consumer market. However, recent geopolitical uncertainties, rising labor costs, and trade tensions have led businesses to rethink their strategies and diversify their operations beyond China. That's where the China Plus One strategy comes into play. 🚀
So, what exactly is the China Plus One strategy? It refers to the approach adopted by businesses to reduce their dependence on China by establishing additional manufacturing or sourcing bases in other countries. It enables companies to mitigate risks associated with supply chain disruptions, reduce production costs, and tap into emerging markets.
Here are some key impacts of the China Plus One strategy:
Diversification of Supply Chains: By expanding their manufacturing or sourcing footprint to other countries, businesses reduce their vulnerability to disruptions caused by geopolitical tensions, natural disasters, or other unforeseen events. This diversification helps ensure a steady flow of goods and minimizes the impact of any single-country disruptions.
Lower Production Costs: With the rise of labor costs in China, some businesses are seeking alternative locations with lower production costs. By diversifying their operations, companies can take advantage of cost-effective labor pools in countries like Vietnam, India, Bangladesh, and others. This cost optimization enhances their competitiveness in the global market.
Access to New Markets: The China Plus One strategy allows companies to establish a presence in emerging markets and tap into their growing consumer base. For instance, Southeast Asian countries like Vietnam, Indonesia, and Thailand have witnessed increased investment and economic growth as they become attractive alternatives to China. This expansion opens up new opportunities for businesses to reach and serve customers in these markets.
Technological Advancements: To stay competitive, companies often seek technological advancements and innovations that can improve their operations. Through the China Plus One strategy, businesses can access countries renowned for their technological expertise, such as South Korea, Taiwan, and Japan. Collaborations and partnerships in these regions foster knowledge exchange, research, and development, driving overall industry growth.
Balanced Risk Management: By diversifying their operations, companies reduce their exposure to potential risks associated with geopolitical uncertainties or changes in trade policies. They can spread their risk across multiple locations, ensuring business continuity and minimizing the impact of any adverse events.
It's important to note that the China Plus One strategy doesn't necessarily mean companies are completely exiting China. Instead, they are complementing their existing operations by expanding to other countries. China remains a significant market and an essential part of the global supply chain.
In conclusion, the China Plus One strategy is a response to the evolving global business landscape. It enables companies to diversify their operations, reduce risks, and seize new opportunities. By embracing this strategy, businesses can adapt to changing dynamics and ensure sustainable growth in an interconnected world. 🌍✨
What are your thoughts on the China Plus One strategy? Do you see it as a positive trend for businesses? Let's discuss it! 💬🤝